Losing weight — and keeping it off — is a slow, steady, and difficult journey, and no one knows that more than the women who've been there before. Like Taryn Haley, who decided in 2012 to start working out and eating right. By late 2013, she was down to half her previous size. Inspired? We are too. Check out Taryn's incredible story below!
Taryn: Before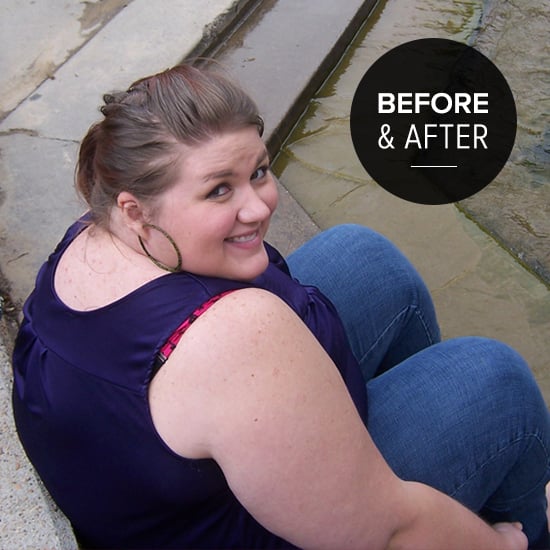 POPSUGAR: What made you decide to start?
Taryn Haley: In January of 2012, I made the decision to try working out at a gym. This wasn't the first time I had worked out at a gym — it wasn't the first time I had tried to get healthy. People often ask me this question, and to be honest, I'm not entirely sure. I wish I could say I had some romantic moment where I had the whip cream aerosol can in my mouth and heard a divine voice say, "Taryn, this is not the life for you," but no. I had no "This is the time I'm going to succeed!" mentality. I had a few motivators, including wanting to conceive a child with my husband, and a faraway dream of being a certain size and looking a certain way. But mainly the reason I started getting healthy is . . . well . . . that's what you do when you're heavy — you think about losing weight and being thin, yet never really thinking you will.
PS: What's your favorite way to work out?
TH: My absolute favorite exercise is running. I enjoy many different types of workouts, both strength and cardio, but find that nothing gives me the results and the same endorphin-boosting satisfaction as running. I run on the treadmill and outdoors, and at the beginning of this year, I have committed to running at least one road race per month, my longest thus far being a 15K.
PS: What's your weekly exercise schedule?
TH: Sunday, Tuesday, Friday, I do a workout that combines strength training with some high-intensity interval training cardio (typically treadmill or elliptical). Saturday, Monday, Wednesday, I complete 45 minutes to one hour of straight cardio, typically running outdoors or doing the elliptical, and will add some core work (crunches, etc.) at the end. Thursdays are my "off" days, and that doesn't mean vegging out on the couch and doing nothing! I'll go out dancing or go for a nice walk, but nothing too intense, and I'll also foam roll to work out muscles and allow them a day to recover.
Taryn: Before
PS: How do you keep workouts exciting?
TH: I try new things all the time at my local recreation center, including Zumba classes, swimming, etc. To keep my strength-training workouts fresh, I will typically prepare a full workout on a note card the night before, writing down what I am going to do, and how many. When I feel that they're getting a bit stale, I will reference fitsugar.com for some great new workout moves! The other way I like to keep my workouts exciting is by beefing up my iPod — gotta keep that playlist fresh and funky if you're going to stay motivated! Shopping for cute new workout outfits helps as well! Recently I have also discovered and tried to participate more in working out with a partner — running with a buddy around town or doing a strength-training workout with someone also trying to get fit or going for a local hike with a friend you need to catch up with. It is a great way to pass the time and connect with someone while participating in healthy activities.